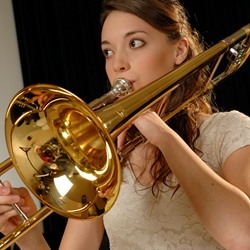 Stepping up Series Part 2

Which step-up instrument should I choose? How much does a professional instrument cost? Today, we are talking more about stepping up to a professional model instrument.
If you haven't yet, check out last week's post about how to know when you're ready for a step-up instrument. Now that you're ready to step up, which instrument should you choose? And how will you pay for it? Read on to find out!


What is the Best Step-up Instrument?
The best step-up instrument is the one that is right for you! So, how do you find your perfect instrument?
1.) Try them
It can often take much trial and error before finding the instrument that is perfect for you. Remember that your perfect instrument may not be the one that is right for your friend, section mate, or favorite professional player.
Each of our journeys as musicians are different , so spend the time finding the instrument that makes it easiest for you to play.
2.) Don't focus too much on the specs
While the specificities of each professional instrument --such as bore size and plating material-- certainly impact the instrument's performance, these details don't mean much if you don't personally like how the instrument sounds or find it easy to play.
The most important part of choosing a professional instrument is not looking at the specific technical details of each model, but finding the one that feels right when you play it!
3.) Take your time
Spend time getting to know the instruments you are considering purchasing. Play different pieces on them and experiment with different styles of playing. If possible, take the instrument home with you for a trial period.
Don't be afraid to try out many different instruments to find the one that is right. Instead of feeling pressured by a teacher or sales person, find the time to discover what works for you.
How Much Does a Step-up Instrument Cost?
Maybe you're hoping to step up to a professional instrument on a budget, or maybe you were searching for your dream instrument before the price tag stopped you dead in your tracks.

Professional instruments are more expensive than student model instruments due to the time and care taken to design and create the instruments and the materials used. For example, most student model flutes are nickel silver, while professional models are often sterling silver.
While there is no doubt that professional model instruments will be pricier than your student model horn, there are many ways to step up on a budget.
How can I Step up on a Budget?

By doing careful research and asking about all the options available, you can save serious money on your step-up instrument. Here's how:
1.) Try an intermediate model
An intermediate model can be a great option for those who are not ready to step up to a professional instrument. These instruments are a step between a student and professional model. They offer some of the features of a professional model, often with a lower price tag.
Keep in mind, however, that if you intend to eventually step up to a professional model, it is less cost effective to buy both the intermediate and professional models.
2.) Buy used
Used professional instruments offer the opportunity to play on a professional quality instrument for a discounted price. Look for used models of the pro instruments you are trying out and you could end up saving some serious cash.
David French Music offers a variety of used wind instruments that have been set up in our repair shop and are sold with the same 1-year maintenance warranty as our new professional instruments.
3.) Trade in a student model
Ask about trading in your student model instrument for a discount on a professional model. At David French Music, we offer up to $200 off a professional model when you trade in your student model.
Keep in mind when doing this that you may need the student model instrument for marching band or other events that may damage a professional instrument.
Stepping up to an intermediate or professional instrument is an exciting moment for a player. By trying out the instruments you're considering, you will find the perfect instrument for you. Give yourself the time and space to explore the options that are out there, and when you find the right one, you'll know!