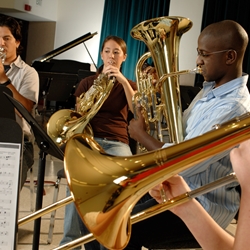 Beginning Music Guide: Choosing an Instrument
Which instrument should I play? Which instrument is easiest to learn? The day has come. Your child has reached the grade in elementary school where students have the option to play in the school band or orchestra. If you are completely new to music, have no fear!
This guide is part of an ongoing series of posts which seek to help you and your child together explore the beginning of your student's musical journey. These posts are meant to be read by parents and students or anyone who is new to instrumental music. Each week will have a new topic of focus. This week, we will be discussing how to choose an instrument.
When entering band or orchestra, students are faced with so many options for what instrument to play. The list of instruments to choose from can be overwhelming. Instead of committing to playing an instrument based only on its name, follow these tips to help you decide which instrument to play.
Listen
Perhaps the best way to decide what instrument is right for you is to listen to how they sound. If you think about it, playing an instrument means listening to that instrument a lot, so make sure you like the sound. Listen to recordings on YouTube of the instruments you are considering and take time to decide which sound fits you the best.
Make the decision yourself
When choosing an instrument, it can be easy to be influenced by your band director, friends, or even parents. Though it can be helpful to consult with a music teacher, choosing an instrument should be an individual's decision. Parents, let your child pick the instrument they like best. Students, take the time to find out what you like. This is the instrument you'll be playing every day, so don't just pick the one everyone else is choosing!
Experience them hands-on
Check if a school or music program near you is offering an opportunity for students to hold and try out instruments. This can give the student an idea of what it feels like to play the instrument.
Now that you have some general tips on how to choose the right instrument, check out the next few weeks' posts which are guides to the different instrument families.
Enjoyed this post? Learn about the instrument families below!
What is the woodwind family of instruments? How does the woodwind family produce sound? Many of the instruments in the woodwind family are no longer made of wood, but they form an important instrument family with a wide range of tone colors.
What is the brass family of instruments? The brass family encompasses a wide variety of sound, from the bright brassy tones of a trumpet to the more mellow sound of the French horn.
What is the Percussion Family?
What is the percussion family? Like brass and woodwind instruments, percussion instruments create sound through vibration.