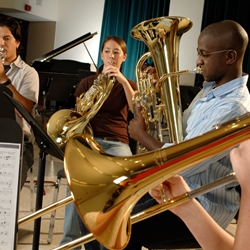 Be Ready to Perform

How do you prepare for a concert? How do you calm your nerves before a concert? Concerts are an exciting time to share the music you have worked hard to learn with an audience.
Taking steps to prepare for a concert will help you to feel calmer and more focused in the weeks, days, and hours before a performance. Whether you are performing in your first concert or are looking to streamline your performance process, here are 6 steps you can take to ensure that your next performance goes smoothly. These tips are split into two sections: what to do in the weeks before your concert and what to do the day of the concert.
The weeks before a concert:
1.) Practice, practice, practice!
While you'll spend lots of time going over the concert's program in rehearsals and dress rehearsal, there is no substitute for individual practice. Make sure that you go over the parts in the music that give you the most difficulty during your practice sessions.
2.) Listen
Ask your director for a recording of the music and spend time listening to it! Your brain will absorb the music and, by the time the concert comes around, the pieces will all be familiar to you. Listening also gives you an overview of the piece and helps you to see how your part fits in with the piece as a whole.
3.) Maintain your Instrument
Don't wait until the day of your concert to find out that your instrument is broken, your bow needs to be rehaired, or you've run out of reeds. Prevent this from happening by evaluating your instrument weeks ahead of your concert. Head to the repair shop if you need a repair. Take stock of reeds, valve oil, rosin, or other instrument supplies. This way you'll be prepared when you head to the concert location.
The day of the concert:
1.) Don't Overplay
It can be tempting to play through the entire program before the concert, but you don't want to wear yourself out. Instead, try listening to the pieces while fingering or bowing through your part. This will help you be prepared without wasting your embouchure and stamina before you step onstage.
2.) Tune
That being said, take the necessary time to warm up and tune your instrument before playing. Play through some scales and exercises, before spending several minutes tuning by yourself and with your section mates. Taking the time to tune and warm up will ensure you're ready to play.
3.) Come prepared
Make sure you have everything you need before leaving to go to the concert location. Check that you have your music and instrument, but also any other items you may need such as: reeds (bring extra!), valve or slide lubricant, a tuner, and water.
Following these tips will help you be prepared for anything that comes your way before your next concert. Remember, there is no substitute for preparation! Try out some of these tips at your next concert, and let us know in the comments below: What are your best tips for concert preparation?
Enjoyed this post? You may also like …
What Should I Bring to Rehearsal?
What should I bring to band rehearsal? What do I need for orchestra practice? This post will help you decide what to bring to rehearsal so you're not leaving important items behind.

How can I get Better at Sight-Reading?
How do you get better at sight-reading? Sight-reading is an important skill for any musician to have. Approaching sight-reading methodically and confidently is the key to success!